The objective of Humanities scholarship is to provide students with enlightened liberal arts disciplines to create insightful participants in society who are well-rounded, skilled in reading, writing, thought, and speech, and who possess an eye for integration of academics.
About Dr. Meenakshi Rajan Somaiya Scholarship for Humanity (Arts) students was established in 2017 in memory of Dr Meenakshi Rajan. She Joined Somaiya Vidyavihar in 1996 as faculty in the History department at S.K Somaiya College of Arts, Science and Commerce. She was very popular with her colleagues and students and helped start and guide the student newspaper VOICES on the campus. Her vibrant personality was almost contagious as she had a song for every moment and would bring a smile to every face that came in contact with her.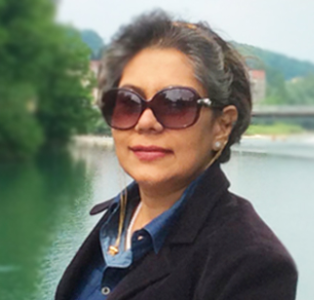 A well-read and spoken personality, Meenakshi completed her PhD from the K.J Somaiya Centre for Buddhist Studies and authored many papers and books, prominent among them being SPIRITUAL WARRIORS AND SHRI GURI NANAK DEV: LIFE, TRAVE & TEACHINGS. Her generous nature made Meenakshi visit Sameerwadi regularly and help teach spoken English to the Help-a-Child students at Somaiya Vidyavihar schools.
Later, she also took simultaneous charge as Director, International Relations, for Somaiya Vidyavhar. After a short battle with cancer in 2016, her untimely demise left us all bereft of vivacious personality on campus. Keeping Meenakshi's love for Somaiya Vidyavihar in mind, her family had decided to establish a fund for Dr Meenakshi Rajan Memorial Scholarship.
This scholarship is to financially assist the needy and promising students of Humanities (Arts students) at Somaiya Vidyavihar. Somaiya vidyavihar will always be indebted for this valuable contribution from her family.